Zeta Charter Schools: Excelling by Focusing on Whole Child
In the wake of COVID-19, schools throughout the state began investing in social and emotional learning (SEL) to provide students with tools to manage their mental health in the face of challenges presented by the pandemic. Zeta Charter Schools, which comprises four charter schools throughout Manhattan and the Bronx, has continued to invest in this whole-child approach under the belief that supporting students in their pursuit of academic excellence goes hand-in-hand with cultivating their minds, bodies, and hearts.
"Zeta is different because of the way we think about the whole child," says Jessica Sie, Zeta's Chief Academic Officer. "We want every child to have the future of their choosing and the ability to set big audacious goals and then go after those goals with confidence and independence."
Zeta's educational school model rests on four main pillars: rigorous academics, mind-body-soul cultivation, innovation culture, and family service.  Zeta believes this approach will prepare students to become readers, writers, mathematicians, and scientists who can tackle real-world problems and use strategic thinking to achieve academic excellence.  However, it is the second pillar – the mind-body-soul cultivation – that sets Zeta apart from other schools.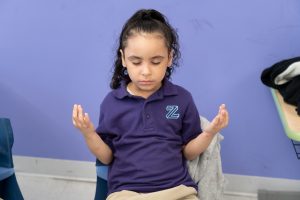 Each day at Zeta starts with meditation and "Zeta Zen," a period where students practice breathing exercises encouraging mindfulness. "Circle time" provides an opportunity for students to build self-awareness by inviting them to discuss their feelings and the root causes for them. On some days, students can bring in an artifact from home to the circle and share how it relates to their identity.
During my visit to the school in early December, I observed students working calmly through breathing exercises before watching a video on "snowy sensations" and eagerly sharing their states of mind that included excitement, happiness, tiredness, and calmness. Several students shared appreciation for one of their classmates.
"It's just a powerful way for students to get to know themselves and their classmates," says Sie. "One of my proudest moments this year was having children who choose to take a moment of Zeta Zen during recess. The kids will be playing and realize their regulation is not where it should be. They will pause, step off the playground, and engage in a moment to center and regulate themselves."
Through monthly themes, students develop self-awareness and evaluate their own social and emotional learning. For the November theme—gratitude—students learned the definition of the word, explained what the term means to them and considered how to show gratitude to others.
Zeta's specialty classes, which include Taekwondo, chess, music, dance, art, and soccer, are also integral to Zeta's general whole child approach and the mind-body-soul pillar in particular.
All students take part in the specialty program four times per week, with additional clubs held after school five times per week. The "Zeta Zen" minute is intertwined into the start and end of every specialty class to afford students the opportunity to center and reset themselves prior to returning to the classroom. Culminating events, such as Zeta's winter musical performance, provide students with an opportunity to demonstrate their developing skills and talents to the entire school community.
Lendel David manages the specialty program. It's his first year in the position after having ran Zeta's sports program for three years. In his role, David is responsible for setting the vision for the school's specialties and working with individual teachers to transform that vision into a reality.
"We are always finding new innovative ways to bring different programs into our school," says David. "Essentially our team comes together, we pilot it, and see if it works and fits within our whole child approach. We also ask our families what kinds of programs they would like to see."
Zeta's Taekwondo program offers martial arts instruction as well as biannual belt tests and the chance for students to earn certificates, medals, and trophies. It aims to teach students discipline and mindfulness, fusing together Zeta's approach to learning. As with its orchestra, dance, chess, and other specialties offered during the school day, students can participate free of charge. The goal? To provide students with both early exposure and to nurture their passions, which will allow each student to specialize as they get older. Zeta already has plans in place for a recording studio for its orchestra and a future debate team.
The school has also established partnerships with various outside organizations to elevate the rigor of its specialty program. Through a partnership with the New York City Ballet, Zeta students receive six weeks of instruction with a professional teaching artist, culminating with a performance of The Nutcracker. Zeta is also working with the New York Philharmonic on a young composer program that would provide Zeta students with the chance to create their own music. Notably, violinist and cello club students also have access to private instruction and small group lessons and the chance to audition for the Music Advancement Program with Julliard, an experience Sie and David believe will prove invaluable.
"We are really committed to building lifelong learners," says Sie. "Our obligation and opportunity is to help kids understand the process of learning, to set and accomplish a goal. Specialty is a unique way to do that. It creates pride of ownership. We want kids to understand that feeling of not knowing something, of being challenged. Specialty is a practice arena for life."